Drawsilience
Drawing together online: a workshop for resilience and team spirit
Today I leaped off the bridge into the Serpentine, on a sunny day at Hyde Park. I was with a bunch of other people, people I'd known for less than an hour, but they jumped in too.
I didn't really leap off the bridge. But I drew myself doing it, which gave me at least a mild sense of doing it. I drew myself in mid-leap, following a suggestion by Quentin Blake.
This took place in a collaborative online drawing session. While I drew myself others, sitting at computers far away, drew with me at exactly the same time, on the same drawing.
A miracle!
Well, not really. It's something I've done quite a lot during lockdown. Here's me, drawing the Oscar-winning actor Olivia Colman: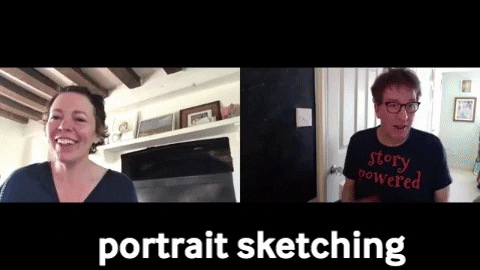 Learning to use the tools
But the online workshops don't use paper and pen. With an online drawing app, participants can draw on the very same image, wherever we are.
As ever, in the leaping-into-the-Serpentine session, we started by working on an image of the online platform itself, to practice using the various tools: pencil, brush, eraser, colour picker and so on. It started like this:
Slowly people added to it:
And in no time at all the image was totally blitzed, like this:
Where are you now?
After participants had got the hang of it, we moved on to an entirely new image: a map of the world. I asked participants to draw a dot to mark their current location, then add lines, variously straight and wiggly, to indicate places visited.
After a short while, I asked people to remember things about the travels they logged.
One woman remembered going to Universal Studios. Another said she had "run away" to Goa. A third recalled the sheer heat, and frequent damp, of living in Singapore.
We agreed that it was easy, and very pleasant, to recall these places – and that we only did it if we gave ourselves an opportunity (such as this workshop) to do so.
I took care to explain how they can go away and do similar collaborations with family and friends.
Wellbeing chamber
Then I ushered participants into a virtual room, and asked them to draw a self-portrait. The room had labels indicating "superb", "fine" and "awful".
I asked participants to move their avatar around the room depending on how they think they are doing, wellbeing-wise, on an assortment of measure: diet, sleep, keeping in touch with the people who matter:
Grid of happiness
For the next exercise, we drew things that have given us pleasure and made us happy over the last year-or-so of lockdown.
Once again, I asked participants to reflect not only on the thing they were drawing, but also what it actually feels like to be drawing it.
And as the hour drew to a close, we gathered at the bridge in Hyde Park, to leap into the warm waters of the Serpentine.
Testimonials
Here's what participants said afterwards:
"A fun team-building exercise"
"Calmed me for an hour, nice escape"
"Took some stress off"
"Helped me relax, great fun"
"Brightened my day"
"A really fun and enjoyable session that gave a mental break from current high workload and made me step back and appreciate being creative for a little while"
"I will try to take the time to escape into drawing again"
"I've been putting off being creative because I want what I produce to be perfect. Thinking about it, I should take time to have a scribble as it's soothing"
"I really enjoyed it, all the different parts of the session. Have come out wondering how so much got fitted in!"
"One of the best sessions I've been to in terms of getting people to engage and ensuring that everyone felt included"
If you would like me to run a workshop like this with your group, please get in touch.
Keywords: drawing, workshop, mental health, resilience