home1
Artist
I make art to understand the world, celebrate something beautiful, and make sense of what's painful.
I create handmade books, paintings, prints, collage – and I do a lot of sketching.
Watch Olivia Colman be drawn.
---
"John-Paul Flintoff is the most practical dreamer I know"
– Philippa Perry, BBC Television
"It's not often we have a paragon on the show… very funny"
– Jane Garvey, BBC Radio 4 Woman's Hour
"Like Brene Brown, but with more physical comedy…"
– Elizabeth Gilbert, author of Big Magic
home2
Newsletter
I save my best stuff for people who subscribe to my emails. You can be one of them. Sign up HERE
---
Work With Humans
I work with companies and individuals, improving communication through engaging workshops, in person and online.
"Amazing. The exercises were a great way to engage with each other, and taught us a lot about ourselves"
- Steve Vrnakis, head of Google Creative Labs
"You really helped us to think about how we engage with individual donors"
– Great Ormond Street Hospital
home3
Tell powerful stories
Stories entertain, educate, persuade and inspire. I write stories, tell them, and help others do the same.
I've been a journalist and an author. My next book is about public speaking and presenting.
In it, I draw on my training in improvisational theatre, and my book How To Change The World.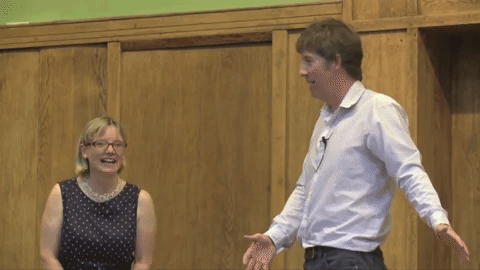 ---
Writers assess my writing
"Very good. Very funny… In fact, it made me laugh"
- Harold Pinter, winner of the Nobel Prize for Literature
"John-Paul can turn his hand to just about anything"
- Eleanor Mills, Sunday Times Magazine editor
---
And finally…
What I'm up to NOW (click to read)