home 3
Allow me to share a storytelling tip that I learned when I was taken hostage by the multimillionaire rock star Gene Simmons, of KISS. I'd gone to interview him for the… Read on…
---
Learn to improvise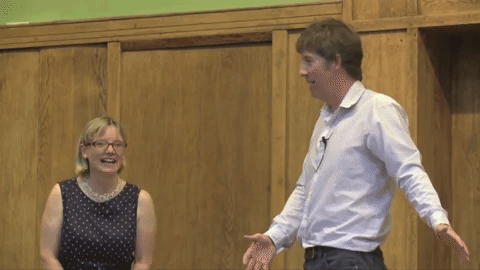 The secrets of improvisational theatre are priceless…
Not because everybody wants to be a performer on stage, but because impro can teach you so much about your "performance" in everyday life.
For me, training with Keith Johnstone, over several years, changed everything.
---
Use your hands
True improvisers don't just perform. We also make things, by playing with physical stuff… Learn how….
My book Sew Your Own is the true account of my attempt to save the planet by making my own clothes. Take a peek…
It was variously described (by other people) as wonderful, amazing, funny, warm, inspiring, moving and utterly brilliant.
"We love you JP"
- Alain de Botton, founder, The School of Life
home 2
I give sensational talks all over the place, about changing the world, being more creative and having better conversations.
(Want a talk? Just give me a soap box)
---
One Million Conversations
Were you awkward at school? I went through a terrible patch. Specially around girls…
Today, I'm aiming to inspire no fewer than One Million Conversations. (I know, right!) Not bland chat, but conversations that zing. Conversations that move, inspire, and bring together. Find out more…
Please help us to reach our target by inviting us to your company, organisation or group.
"Oh look! Does it say that in your mug?"
---
This website was set up in 1999, as an archive of my writing for the best newspapers and magazines in English.
I still have more than 1,001 stories here, and you can find most of them if you are curious, and look around.
But I share some things only with people on my mailing list. Join now…
home 1
COURSES | WRITING | LOGIN | CONTACT
You know how it feels… You can see exactly where everybody is going wrong.
You find yourself giving lectures to people who didn't ask for them – and won't listen.
Selling your ideas is hard. Selling anything turns many people into blithering idiots. Me too, sometimes.
But the world needs that thing of yours. We want it. It solves a problem we have. (We may even pay for it.)
But seriously, change the world? Keep reading…
"You're like Brene Brown, but with more physical comedy…"
– Elizabeth Gilbert, author of Big Magic
"It's not often we have a paragon on the show… very funny."
– Jane Garvey, BBC Radio 4 Woman's Hour
"John-Paul Flintoff is the most practical dreamer I know"
– Philippa Perry, BBC Television
---
I coach people like you, using skills developed over 20 years working with high-achievers in government, business and the arts.
If you are curious to know more about my consultancy and coaching, read this….
If you're quick, you can get your hands on my problem-solving map, What's Bugging You? They're going fast.